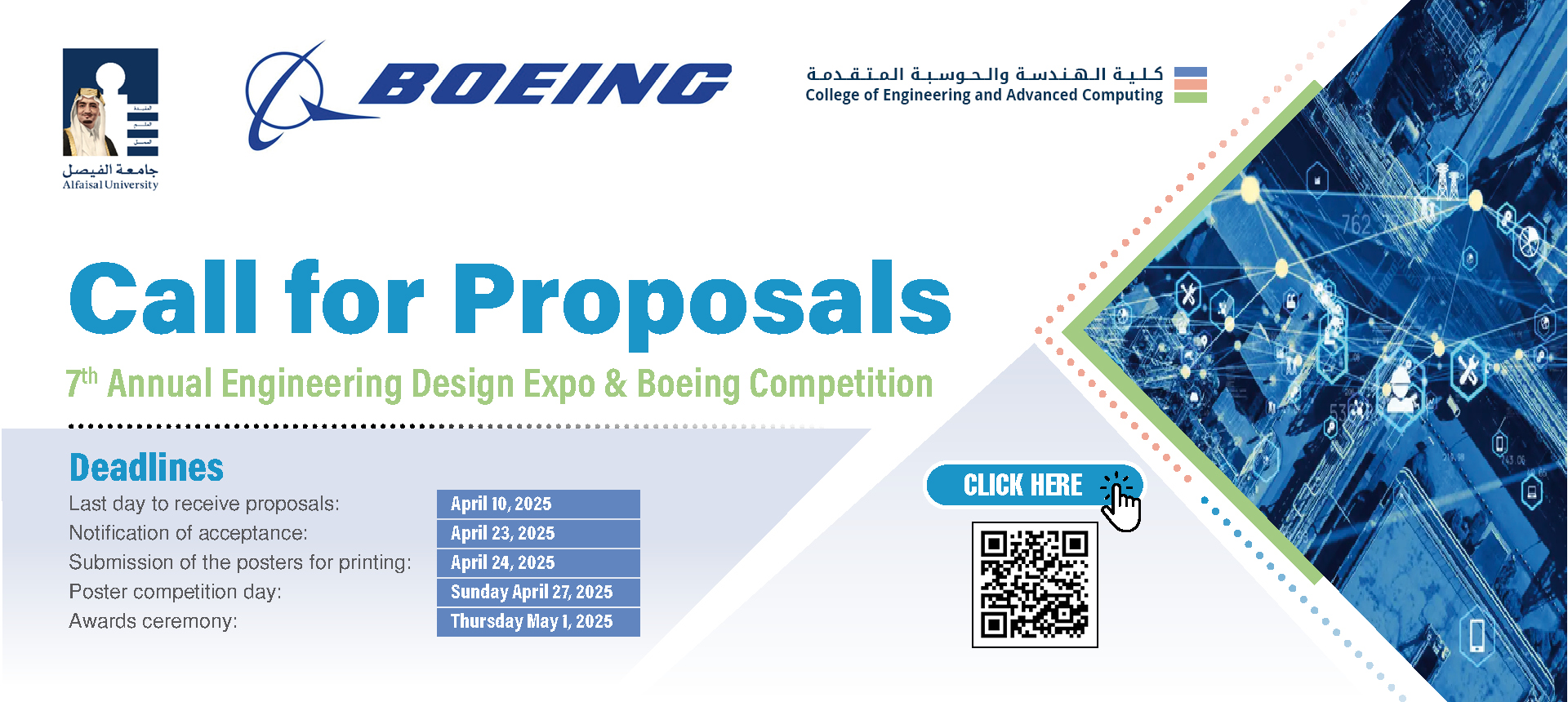 Call for Proposals Alfaisal Engineering Design Expo and Boeing Competition
Guidelines on Proposal Preparation
Overview
It is our pleasure to announce Alfaisal Engineering Design Expo and Boeing Competition. In collaboration with the College of Engineering at Alfaisal University, Boeing has established an engineering student design competition for selecting and awarding the best engineering projects every academic semester. All the projects are exhibited on a poster presentation while the judging rounds take place. Finally, the awards are celebrated in a ceremony attended by representatives from Alfaisal University and Boeing.
This is an excellent opportunity to enhance your CV and boost your career path.
Scope of Projects
In the time of the fourth industrial revolution IR.04, the projects must provide innovative technology-driven solutions that positively impact health and safety, economic growth, social and society within and beyond the Kingdom of Saudi Arabia. In addition, projects need to address contemporary challenges such as sustainability, renewable energy, climate change, Covid-19 pandemic, and other engineering-related projects.
Proposals are expected to be related to the following engineering tracks:
Architectural Engineering (AE)
Electrical Engineering (EE)
Industrial Engineering (IE)
Mechanical Engineering (ME)
Software Engineering (SE)
MEM (only for MEM graduate students) (MM)
Multidisciplinary (more than one track) (Multi)
Note: Proposals falling in multidisciplinary areas with one or more of the above disciplines should be submitted under the multidisciplinary track. Multidisciplinary track project must be an interdisciplinary project that contains many engineering aspects (e.g. mechanical and electrical), and therefore requires a tailored judging committee.
Eligibility

Any undergraduate Junior, Senior and MEM student, currently enrolled in the College of Engineering, or recent graduates working on a research project.
Judging Criteria
Relevance and impact to contemporary engineering challenges
Quality of Poster & Presentation
Creativity and Innovation
Project Demostrastion (physical models, simulations, videos… etc.)
Content of Proposal
Proposals must contain the following:
•    Project title
•    Team members
•    Project supervisor(s)
•    Purpose of project (mandatory)
•    Design/Methodology/Approach (mandatory)
•    Findings/results (may include expected results) (mandatory)
•    Analysis (if applicable)
•    Limitations (if applicable)
•    Impact of project (if applicable)
•    Social implications (if applicable)
•    Originality/value (mandatory)
•    References (mandatory)
Guidelines on preparing the proposal
Proposal length: the proposal must not exceed 4 pages in total.

Purpose of the project: clearly state either the reason for or the primary objectives of the project or investigation. What are the reason(s) for or the aims of the project? This section can begin with wording such as 'The purpose of this project….' or 'This project aims to….'

Design/Methodology/Approach: describe experimental methods/techniques or approach used in the project. How are the objectives achieved?

Findings/Results: present only the most significant outcomes of the project. Be clear, concise and informative when presenting the outcomes.

Analysis: discuss findings/results using contemporary theories and relate them to prior work and current understanding in the literature.

Limitations: include shortcoming of the current project and suggest steps to overcome these in future work.

Impact of project: discuss briefly how the project result contributes to the engineering body of knowledge, practice or applications.

Social implications: discuss briefly the impact of this project on society such as impact on climate change, impact of lifestyle due to technology, influence public attitudes, quality of life, etc.

Originality/value: describe briefly what is new about the project. State the value of the project and to whom.

References: list key references on related work.
Evaluation of Proposals
Proposals will be evaluated by a panel based on the following broad criteria:
•    Relevance: Proposal is related to one or more engineering disciplines of the College of Engineering
•    Makes an impact: Proposal contributes to contemporary issues
•    Quality: Proposal is of high quality and free of obvious factual, experimental or conceptual errors
•    Creativity and innovation: Proposal contains element of creativity and innovation
Note: Judges will be assigned according to the track you select.
Awards
Three prizes per track:
1st Place: SAR 4,000
2nd Place: SAR 2,500
3rd Place: SAR 1,500
Important Dates
Last day to receive proposals: March 30, 2023
Notification of acceptance: April 6, 2023
Submission of the poster for printing: May 7, 2023
Poster Competition day: May 14, 2023
Awards Ceremony day: May 15, 2023
Submission of Proposals
Proposals are to be submitted through the Proposal Submission
Download Proposal Guidelines(PDF)
For more information, contact Ms. Rana Alsohaily ralsohaily@alfaisal.edu