Human-Computer Interaction
The HCI Lab develops technology solutions to address community-driven problems with a focus on socio-economic impact. The mission of the HCI Lab is to bring together an interdisciplinary set of people to share ideas and collaborate on research related to the interaction between design, people, and technology. From understanding user needs, to developing and evaluating interactive technologies, our HCI Lab's faculty, staff, and students have been leading the way in HCI research in KSA since 2010.
Equipment
Brain-Computer Interfaces (Emotiv, Enobio)
XR Head-mounted Displays (MagicLeap, HTC, Oculus)
Collaborators & logos for funding

Team members
Eng. Asma Asim Ali, Lab Coordinator Dr. Shiroq Almegren, Affiliate
Dr. Kyle Keane, Affiliate
Dr. Sharifa Alghowinem, Affiliate Dr. Abeer Alnafjan, Affiliate
Dr. Khalid Majrashi, Affiliate
Dr. Shada Alsalamah, Affiliate
Lab Manager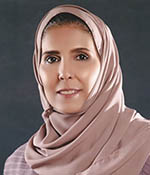 Name: Areej Al-Wabil
Email: awabil@alfaisal.edu
Contact Number(s): 011 215 8878
Director profile link: Open Scholar


Dr. Areej is an HCI scholar and an Ibn Khaldun Fellow.