Internet of Things
At the IoT Research Lab, we conduct state-of-the-art research on different aspects of Wireless Networking and Mobile Computing, focusing on emerging technologies such as IoT, Big Data, Blockchain, Cloud Computing, and Molecular Communication to explore the future of networks and communications. We are engaged in industrial as well as academic research, covering various topics in the emerging technologies from the data link layer to the application layer. We also provide training and education at the graduate and undergraduate levels for students interested and dedicated to doing research and development in these technologies.
Equipment
Smart Cities loT vertical kit

Smart Environment loT Vertical kit

Libelium-ThingWorx Development kit

MySignals SW complete kit

Libelium-Bluemix Development kit
Collaborators & logos for funding
King Abdulaziz City for Science and Technology (KACST), Saudi Arabia

Boeing International Research Fund - Boeing, Saudi Arabia

Team members
AbdulAziz Al-Helali
Emad Qazi
Projects
Anonymity Preserving IoT-based COVID-19

Smart IoT Sensor: A Continuous and Lightweight Arrhythmia Monitoring Approach

Self-Aware Autonomous City: From Sensing to Planning

Molecular Communication in Human Body

Developing and Designing Smart Services
Lab Manager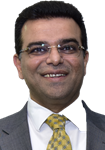 Name: Nidal Nasser
Email: nnasser@alfaisal.edu
Contact Number(s): 011-215-7750
Director profile link: Open Scholar


Nidal Nasser completed his Ph.D. in the School of Computing at Queen's University, Kingston, Ontario, Canada, in 2004. He is currently a Professor of Software Engineering in the College of Engineering at Alfaisal University, Saudi Arabia. He was the Acting Dean for College of Engineering-Alfaisal University, 2014-2017. He worked in the School of Computer Science at the University of Guelph, Guelph, Ontario, Canada (2004-2011). He has authored 180 journal publications, refereed conference publications and book chapters in the area of wireless communication networks and systems. He is currently serving as an associate editor of IEEE Systems Journal and Wiley's International Journal on Communication Systems. He regularly serves on the organizational and technical committees of a number of conferences. He is an IEEE Senior member.