Electric Power and Machines Lab
In the Electric Power and Machines Lab, our task is to identify the appropriate electrical energy conversion phenomenon and governing laws per application. Also, design, diagram, analyze, and interpret experiments in EE systems related to dc and ac machines, and ac transformers in the lab course. Moreover, it is involved in modeling renewable energy systems at various levels of abstractions in theoretical and practical settings are involved. And, constructing renewable energy systems employing contemporary approaches and tools.
Equipment
Dc Machines, AC Machines, Transformers, Wind Turbines, and Solar Cells.
Lab Manager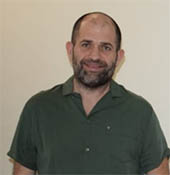 Name: Amjad Bou Matar
Email: aboumatar@alfaisal.edu
Contact Number(s): 011 2157756
Director profile link: Open Scholar


Eng. Amjad Bou Matar is a Lecturer of Electrical Engineering in the College of Engineering of Alfaisal University. He teaches courses and labs and provides tutorial sessions in Electric, Electronic, Instrumentation and Control, Communication, Computer, Power and Machines courses. He has 20+ years of impressive track record in spearheading laboratory operations for electrical systems, as well as specific proficiency in fields of teaching and academic development. Currently, he is handling the summer internship coordination for the electrical engineering in Alfaisal University.
Eng. Amjad Bou Matar is a MATLAB expert. His current research focuses on Control Engineering and Digital Signal Processing.