Game Innovation Lab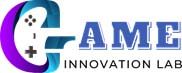 The Game Innovation Lab is a hybrid educational practice hub and innovative research unit that encompasses a curricular initiative by Alfaisal University meant for advancing the learning experience to focus on game research and advancing innovative game design and development. Alfaisal's Game Innovation Lab aims to explore the possibilities of play and enable game creators to drive real-world change using games that help people to learn, improve their communities, and contribute to make the world a better place.
The lab is part of Alfaisal's AI Research Center in the College of Engineering and was established to help students and scholars in investigating the expressive and strategic potential in games through interdisciplinary study that intends to define a novel gaming perspective and research domain in our local context. For that, Alfaisal's Game Innovation Lab offers an equipped game studio with gaming workstations and complete lab setup with advanced emerging technology that can serve in building interactive gamathons, game jams, competitions, research initiatives, and games operated jointly between Alfaisal University and other partners and external stakeholders, who are interested in exploring how gaming technologies might be used in serving their applied domains.

Alfaisal's Game Innovation Lab can effectively provide a space for designing innovative prototypes, explore various techniques for building effective games with physical graphics and animation in the educational, healthcare, entertainment, and even strategic sectors. It also contributes towards knowledge sharing on social and individual effects of digital games on daily activities using advanced technologies like Virtual Reality (VR) and Augmented Reality (AR) technologies and gaming robotics.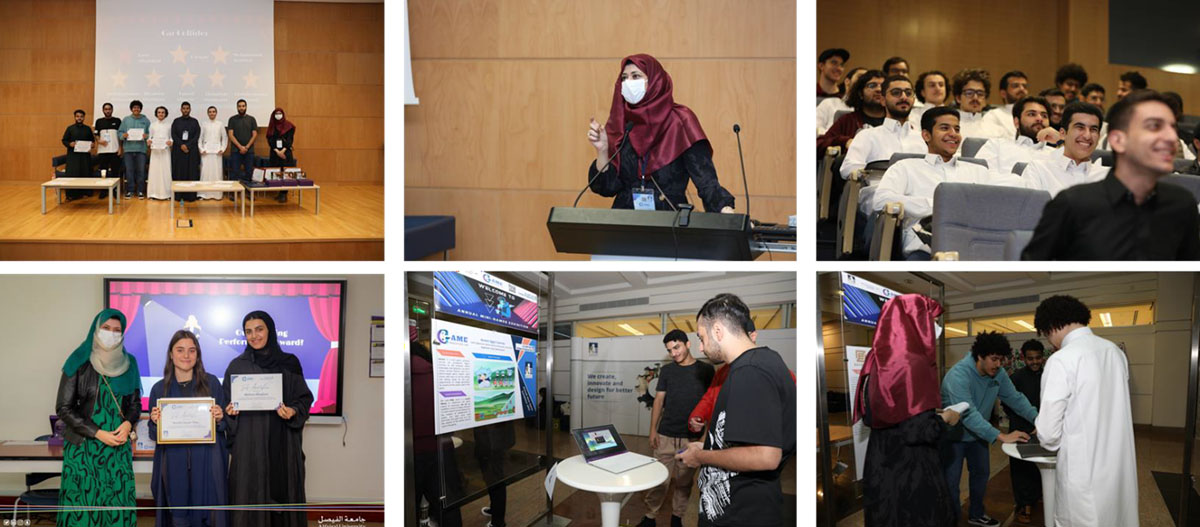 In 2022, the lab introduced a new theme for driving interest in this applied domain focusing on pre-collegiate students at the "Apps & AR Games Developer" track this summer in AUEP program. For more details, please check: Apps & AR Games Developers. Furthermore, the game lab participated in the Gameathon, that took place at Alfaisal University and gathered around 10000+ serious games development enthusiasts during summer 2022. In addition, game innovation lab participated in AI summit introducing 30 innovative game poster ideas and launched the annual mini-games exhibition and students' competition for the first time in Saudi universities and was open to 100+ visitors and reflected 94 sophomore students' work on developing 17 mini-innovative games and posters during Fall 2022.

In February 2023, Game Innovation lab also hosted the Global Game Jam, a three-days event where over 170 participants formed 34 teams to develop games from scratch, guided by the theme "roots." The event, coordinated with the Game Developers Association (DGA), had teams showcased their game prototypes, with 16 presenting playable versions. The jam highlighted the potential of games in education, fostered the local game development community in the Kingdom and emphasized the blend of engineering creativity and game design expertise.

Moreover, Game Innovation Center arranged "Maze of Hope" event that was sponsored by Boeing from May 13th to 15th. This charity initiative, aimed at supporting children with cancer, showcased the talent and compassion of Alfaisal students introducing a VR maze game, developed in collaboration with by UpDown Studio, a startup founded by Alfaisal University students. The event received immense support from various university departments and student associations. The success of the Maze of Hope event underscores the potential of technology for social good, emphasizing collaboration, innovation, and the dedication of the students, leaving a lasting impact on children battling cancer and inspiring students to contribute positively to society.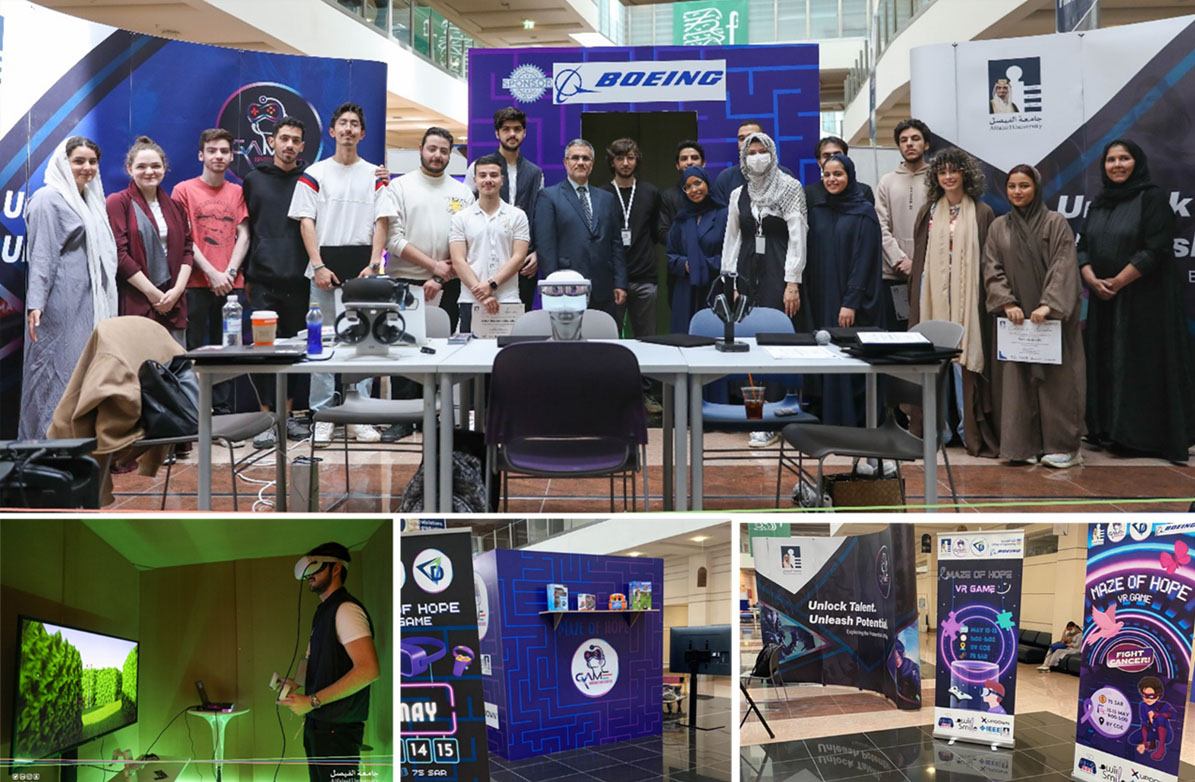 The Game innovation Center has also launched a set of workshops in June including "AI in games" workshop by Dr. Areej Alwabil and Eng. Hoda Elsayed, "Series Games" workshop by Dr. Hanan Makki, "Building Mobile Game Studios" by Fahy Studio and "XR in Healthcare" workshop as part of Women in Data Science (WIDs) event as well as "2D and 3D Platformer" by Game Development Club at Alfaisal university as part of AUEP program in Summer 2023.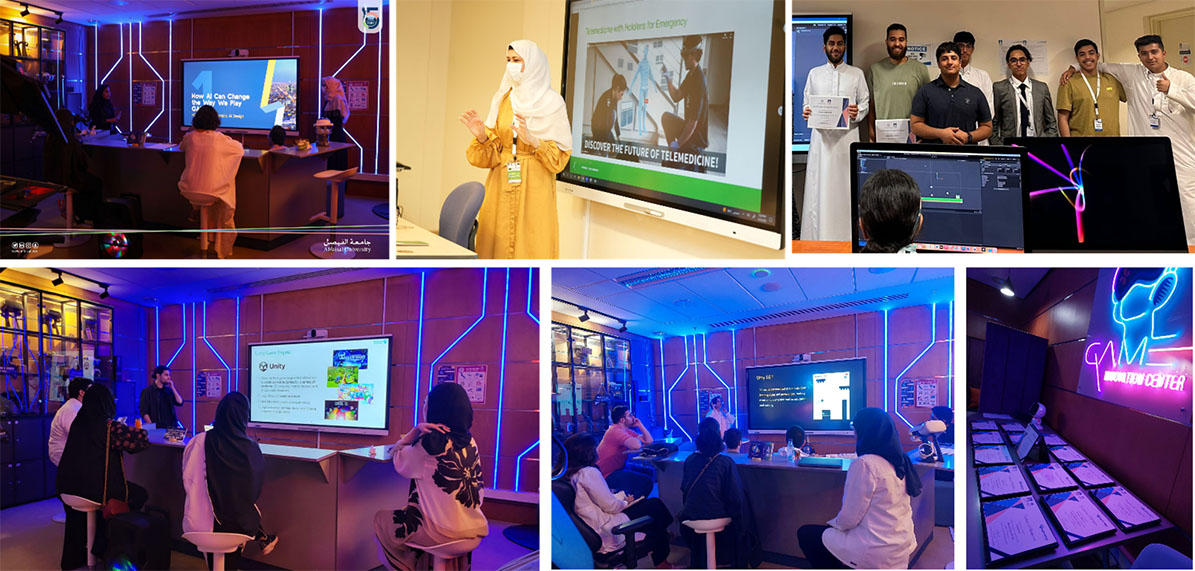 Furthermore, the Game Innovation Center and Dimensions, hosted a pioneering 40 hrs XR (Extended Reality) Bootcamp over two weeks in July and August in collaboration with Saudi E-sports Federation (SEF). This event, aimed at promoting innovation in extended reality, attracted a diverse group of participants, including students, professionals from various fields, and gameathon winners.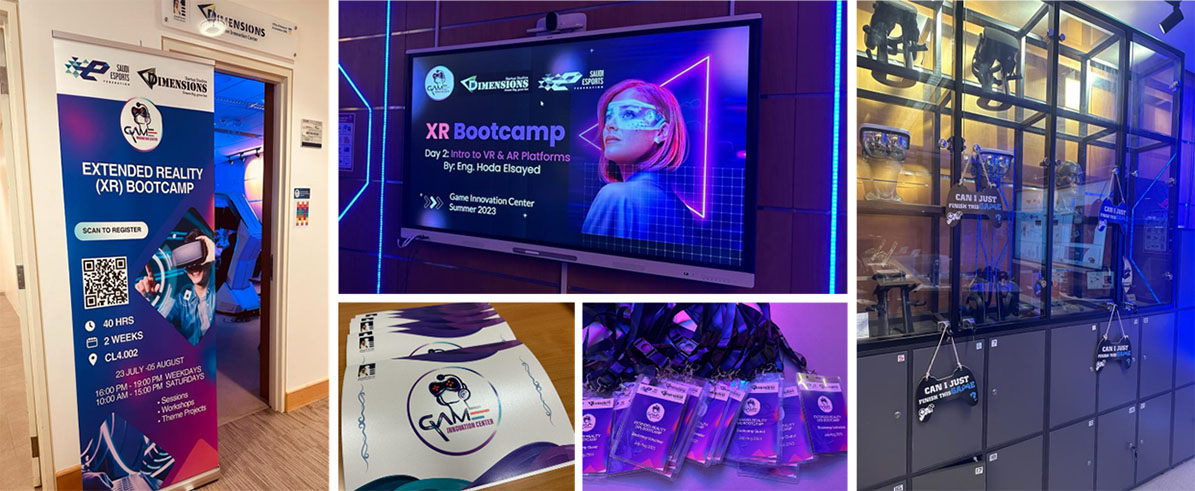 Guided by CoE faculty, attendees delved into XR technology, hardware design, software development, and 3D modeling. Using tools like Unity, Unreal Engine, and Blender, participants created three notable projects, with plans for further development and intellectual property acquisition. The bootcamp emphasized interdisciplinary collaboration and showcased the Game Innovation Center's commitment to fostering XR advancements. The center's initiatives promise a bright future for XR enthusiasts and professionals.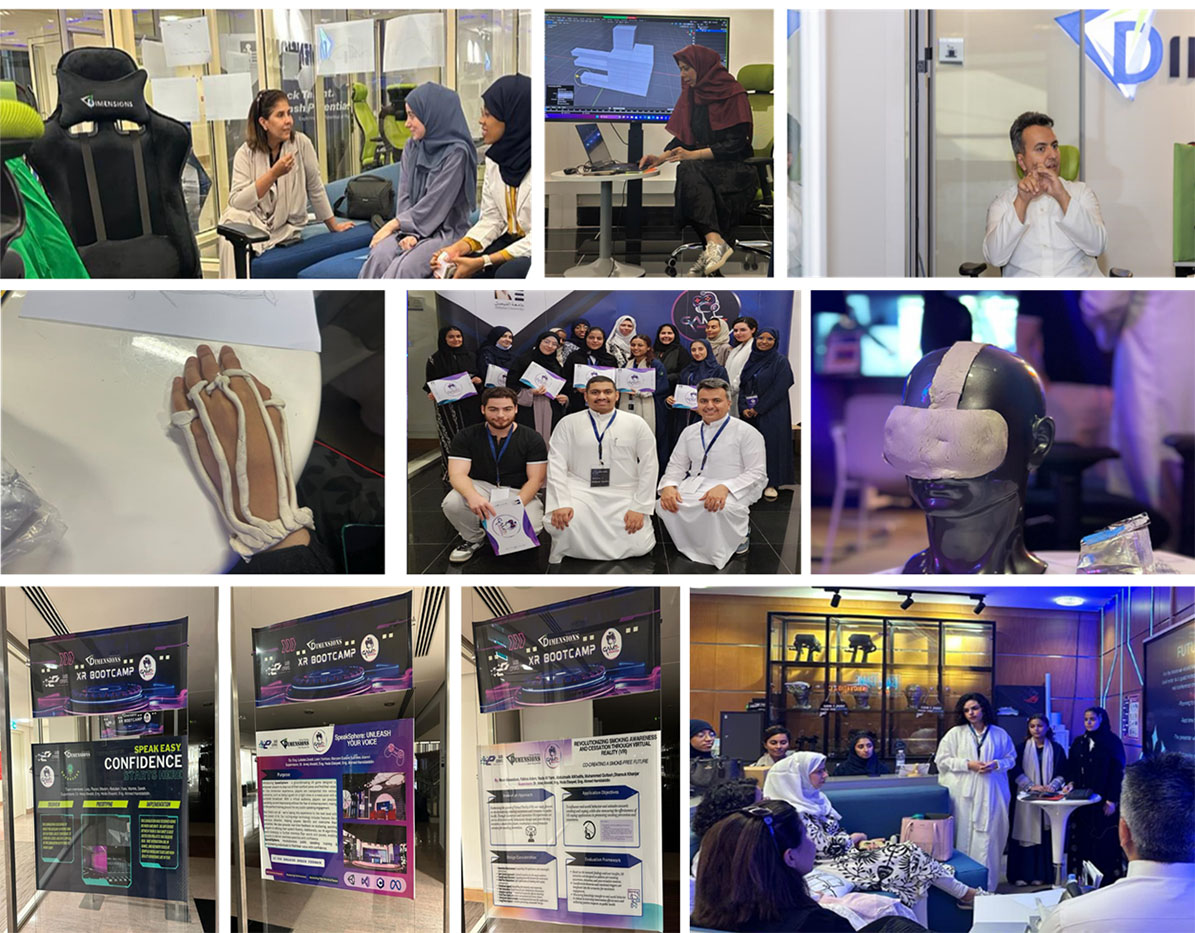 Students' competitions took place this year for courses' projects to encourage students develop web projects for game center and winners were declared by the end of the event. In August, Game Innovation Center hosted a competition for LEGO EV3 playful robotics for AUEP's high school students as part of the AI Academy program.

The lab's past list of projects and publications includes these serious games under society services umbrella:
Capstone: LexiaQuest: VR Game for Dyslexia Screening
Capstone: BugsExplorer: A 2d/3d and VR Educational Game for Coding Bugs Detection
Capstone: DebuGame: Interactive Virtual Reality Game for Novice Coders
Minigames Exhibit: "Golden Quest: Interactive Educational Game for Physical Science" (Boeing Award winner)
XR Bootcamp: VR Smoking awareness and cessation Application
XR Bootcamp: SpeakEasy: VR Simulation for public speaking training

Check our game lab's gallery from past events during 2022 and 2023 here and the completed projects demos here. The lab also supports 2 students' studios at Alfaisal. If interested in joining us, knowing more about our current game projects, and taking part of upcoming projects or events as volunteers or sponsors or to join a summer internship in the game innovation lab, please contact us at gamelab@alfaisal.edu
Game Innovation Lab Team
Lab Director: Eng. Hoda Elsayed
Lab Assistants: Kerem Demirboga, Alanoud Bindayel, Saif Hamdan
Lab Affiliates: Eng. Ahmed Hamidalddin (PI), Dr. Areej Al-Wabil (PI), Dr. Mohamed Bahloul (PI), Eng. Aram Monawer (PI)
Student Affiliates:

GDC leading team (Saleh Alghannam, Monira Alzouman, Alya Alsheikh, Razan Abu Owaimer)
Siwar Raslan, Zeina Badran, Mohamed Alderi, Ameena Bin Taleb

Studios in collaboration: UpDown Co-founders (Abdullah Adam, Faisal Aldubaib, Faisal Alotaibi), Qandeel Studio (Dr. Hanan Makki), Playerone Studio (Dr. Layla Albabtain)